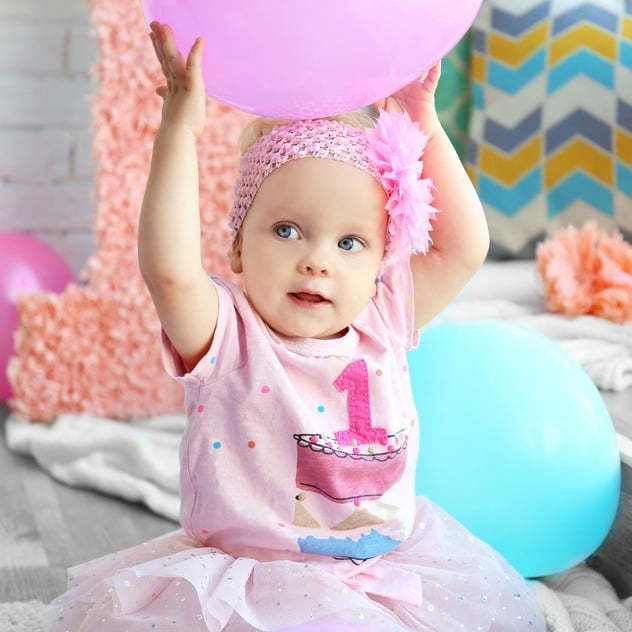 Those first twelve months with baby sure do pack a lot of action in a little bit of time. What better way to acknowledge the journey than with a first birthday celebration? Options are limitless, but certain guidelines can help ensure the birthday is a fun and memorable experience!
Create Your Own Photographic Homage
A fun way to commemorate the first twelve months is with your own personalized visual recap. You can choose from a variety of fun visual options, including a photo book of baby's first year (and ask guests to sign it), a slideshow or movie filled with the first-year pictures, or a fun shape (such as the number 1) made out of baby's pictures.
Make it a Party
Getting baby through his/her first year takes a lot of work, so why not celebrate his/her first birthday with a party? The best location really depends on the parents and what constitutes a proper party for them. Some may want to rent a venue and throw a big first birthday bash. Others may prefer the comfort of their own home surrounded by close friends and family, since everything baby could ever want or need is right there. Whichever path you choose, a party is a fun way to celebrate.
Include Some Decorations
A tasteful selection of decorations will help create a festive feeling and add the first birthday touch to the celebration. A few staples to consider include a birthday hat for baby, decorations for the high chair, and a few balloons to mesmerize all of baby's guests. If you decide to purchase balloons, Mylar balloons are generally the safest choice as they are less likely to pop or pose a choking hazard.
Parents can go to any party goods store for a great selection of baby's first birthday items or opt to create their own. Either option makes decorations doable on any budget.
Don't Forget a Smash Cake
Smash cakes, or personalized cakes made just for the guest of honor, have become so popular that they are almost a rite of passage at a first birthday. That is certainly not to say you have failed your child if you opt out, but there are several available options to meet your budget and dietary needs if you do choose to have one. Just about any bakery you ask will gladly design one for you.
Some parents choose to make their own smash cake or a similar alternative. If parents aren't too keen on a sugar overload, they can make something with a natural sweetener or substitute applesauce for sugar.
Keep Things Manageable
If you are the parent of an almost one-year-old, chances are you are often very busy, so it's important to keep baby's first birthday manageable. While you may have been known for throwing elaborate parties in the past, it is completely okay to opt for a much simpler agenda for this event. Your guest list should include your loved ones and anyone else who would be happy to celebrate this momentous occasion.