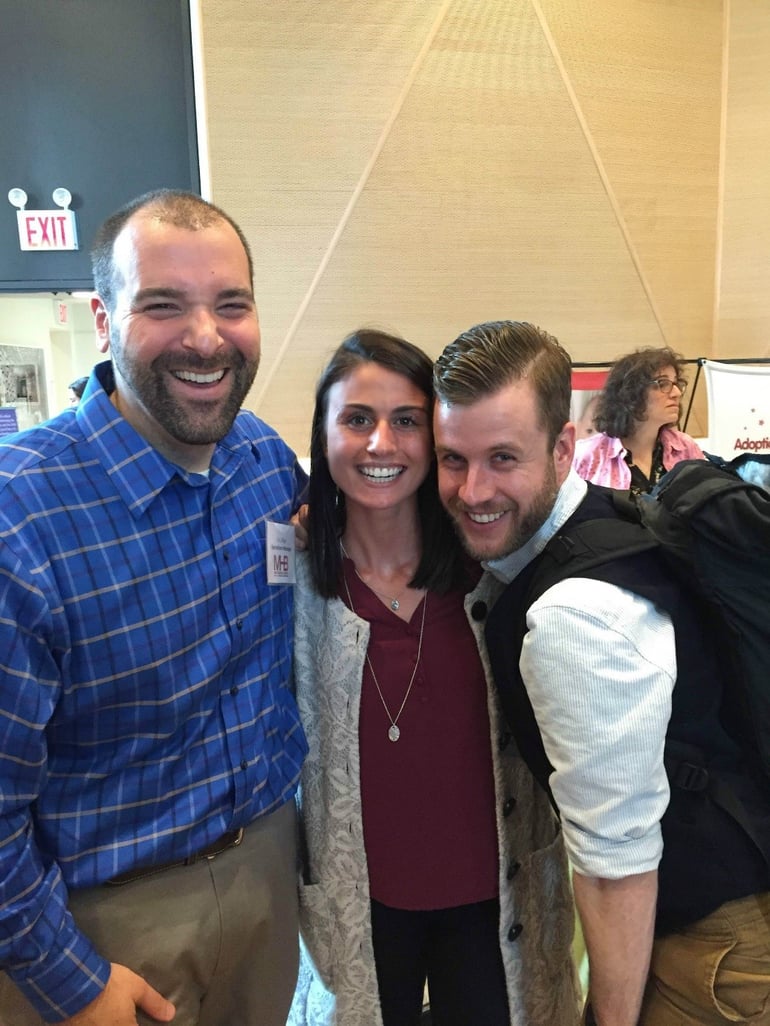 On Saturday, May 7, Worldwide Surrogacy was fortunate enough to attend the LGBT Family Building Expo held at the LGBT Community Center in New York City. The all-day event provided attendees with valuable insight into the various parenthood pathways available to them, surrogacy being one of many. WSS along with various other surrogacy agencies, clinics, adoption agencies, and egg/sperm donation agencies, were all in attendance.
We were able to not only meet with one of our current intended parents, but also had the opportunity to see the Operations and Development Manager of Men Having Babies, the organization that hosts various conferences that we often attend.
Pictured from left to right: AJ (Men Having Babies),
Erin (WSS, Associate Case Manager), Ethan (WSS Intended Parent).
At the Expo, attendees could choose from a number of panels and educational seminars, including topics such as: How are Gestational Carriers and Egg Donors Screened, Planning Parenthood Through Surrogacy, Choosing Your Adoption Path, Legal Aspects of Surrogacy, Trans Family Building, and many more. In addition, one of our staff members attended the seminar, Legal Aspects of Surrogacy, about the common legal challenges that intended parents often face. This included discussion of the legal agreements throughout the process, such as those regarding the egg donor and/or surrogate, the laws in the state where the birth is to take place, processes involved in getting the parent's name(s) on the birth certificate, and the various financial responsibilities throughout the journey.
Jen McArthur (WSS, Director of Case Management)
The day as a whole was an overall success as both Jen and Erin met with many potential intended parents looking to build their families via surrogacy. Most of the conference attendees were just starting out the process, trying to obtain as much information as possible. However, one thing was evident; they all have a strong desire to grow their family!